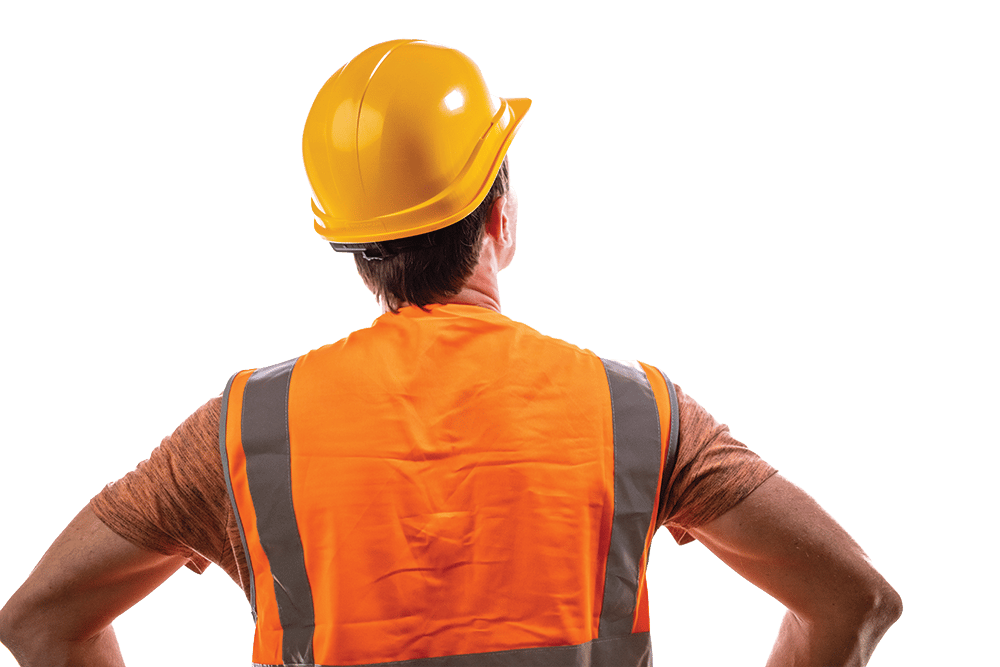 Photo credit: Getty Images
State of the Industry 2022
Finds Restoration Contractors Seeing More Residential Work, Seeking More Workers
Restoration contractors see an opportunity for growth in residential business. They see their greatest challenge as finding enough employees to do that work.
Those are two of the key findings of our 2022 State of the Industry survey. In April, Restoration and Remediation sent out a questionnaire covering a range of topics affecting the restoration business. These included hiring and retention, spending expectations, and consolidation. Answers came from executives and managers at a range of restoration firms.
More than two-fifths of respondents are primarily involved with remodeling contracting, while just under one-fifth are involved with water damage restoration contracting. Median company revenue is between $1 million and $4.9 million. The majority of respondent companies provide water damage restoration services, followed by mold remediation, fire/smoke damage restoration, cleaning and disinfection, and odor removal.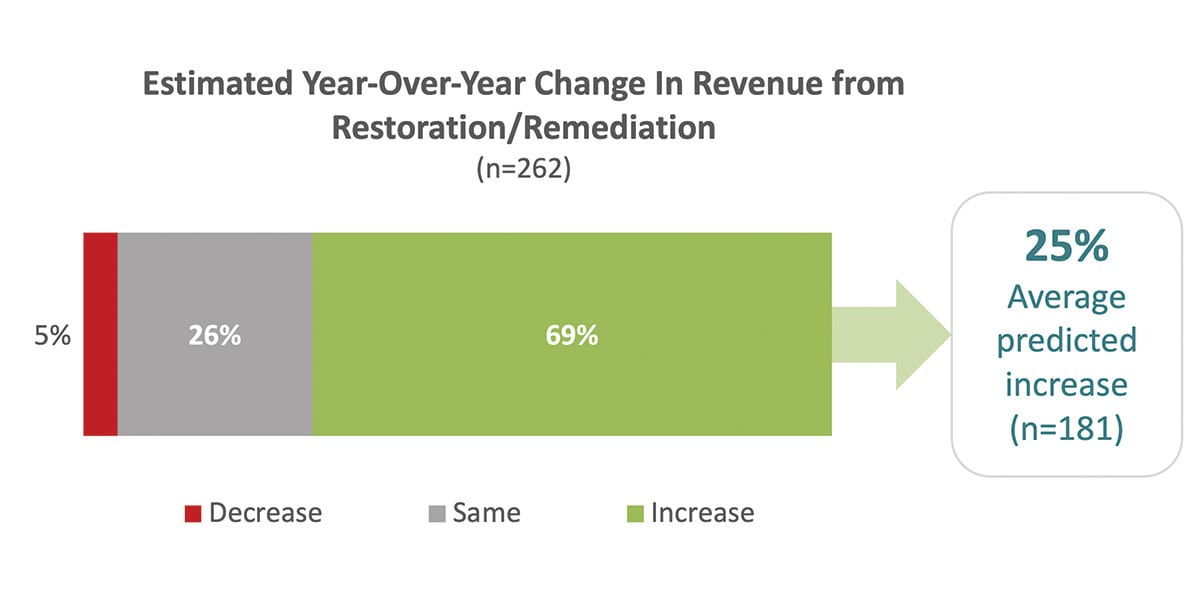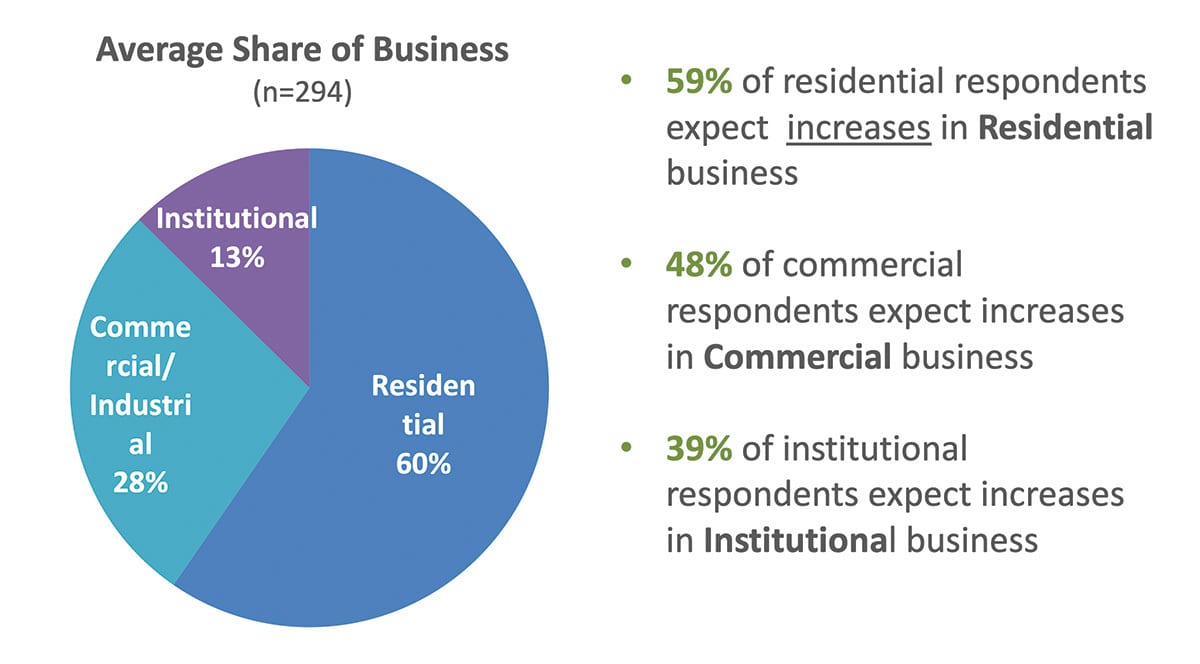 The majority of respondents (70%) were male. Gen X maybe up the biggest age group with 44% of respondents born between 1965 and 1980. Thirty-seven percent have been working in restoration for four to 10 years, with another 32% having been in the business for 11-20 years. Contractors from across the country took the survey, but the South was the best represented with 38% of respondents.
Almost three-quarters of respondents are independent business owners. More than half of the respondents had nine or fewer full-time employees. A third had no part-time employees and 42% had no contract employees.
Most respondents are optimistic about the business going forward. Sixty-nine percent of respondents estimate that business revenue from restoration and remediation projects will increase in the future. Residential contractors are especially enthusiastic about growth potential for their business, with 59% of respondents expecting an increase. Forty-eight percent of commercial contractors expect an increase, with 39% of institutional contractors seeing an increase.
On average, three-fifths of respondents' business is generated from residential projects. Three-in-five of those involved with residential business expect it to increase. Commercial work is expected to increase by nearly half of involved respondents, while institutional work is mostly expected to remain the same.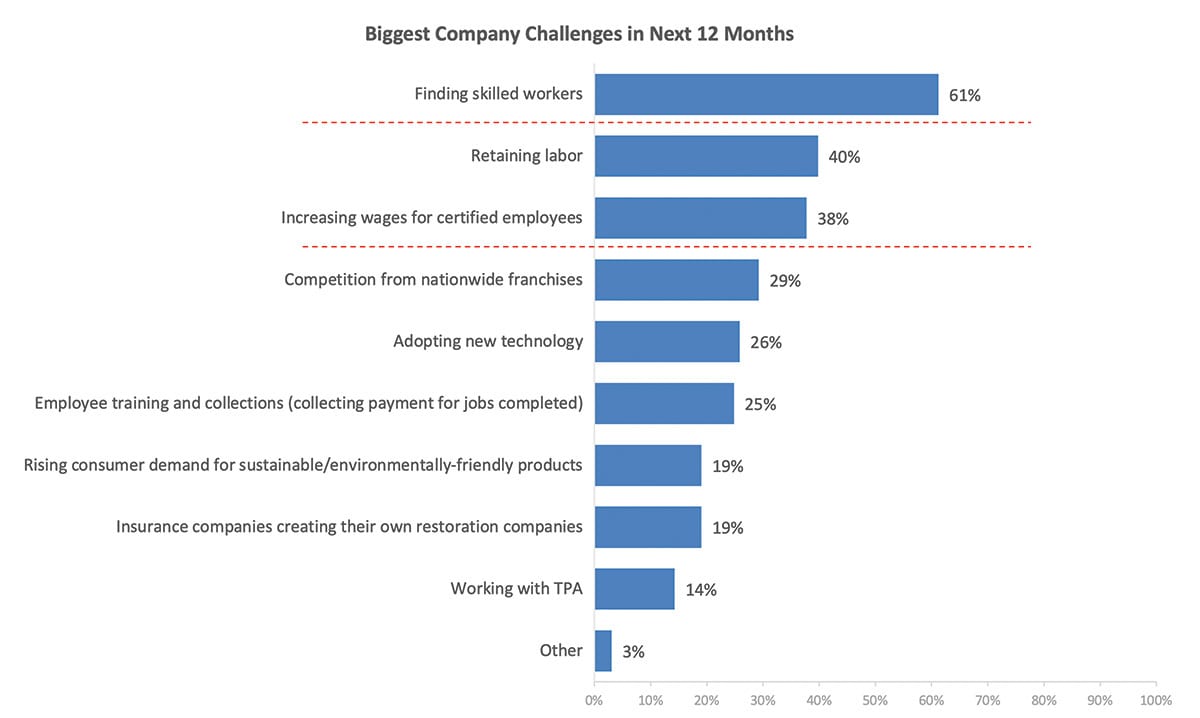 FINDING, PAYING FOR SKILLED WORKERS
The largest perceived challenge in the industry is finding skilled workers, followed by retaining labor and increasing wages for certified employees. Respondents report spending an average of 37% of last year's budget on labor. This is a similar story across most trades.
Hourly earnings growth in the Construction sector hit 5% in June, reaching the highest level since 2011, according to the recent Paychex/IHS Markit Small Business Employment Watch. While that was below the overall growth of 5.10%, construction was one of the few sectors to see a month-over-month increase in June.
Companies employ a mix of full-time, part-time and contract employees. Half or more of respondents report no change in staffing level across the board over the past 12 months.
Part of that is because they are keeping the workers they have. Two-fifths of respondents have worked at their current company between 4 to 10 years. The majority of respondents see a path to advance in their career and company. In three years, the majority of respondents not only continue to see themselves in the restoration industry but also with their current company.
One way to retain staff is by providing opportunities for growth and improvement. The majority of respondents believe it is highly important to provide quality staff training. An average of 16% of company annual budgets are spent on training.
Nearly half of company employees hold one or more certifications from the Restoration Industry Association or Institute of Inspection, Cleaning and Restoration Certification, on average. On-site field training and hands-on training are top preferred training methods of technical competency.
Planned purchases for next 12 months are estimated at an average of about 3 categories of chemical/products to be purchased and 4 categories of equipment/services to be purchased. On average respondents spent 18% on restoration equipment, and 17% on remediation chemicals.
More than half of respondents report that their company is currently involved with, or planning to be involved with, initiatives ensuring worker/occupational health, safety, clean technology, etc. (58%) and reducing toxic chemical usage (54%).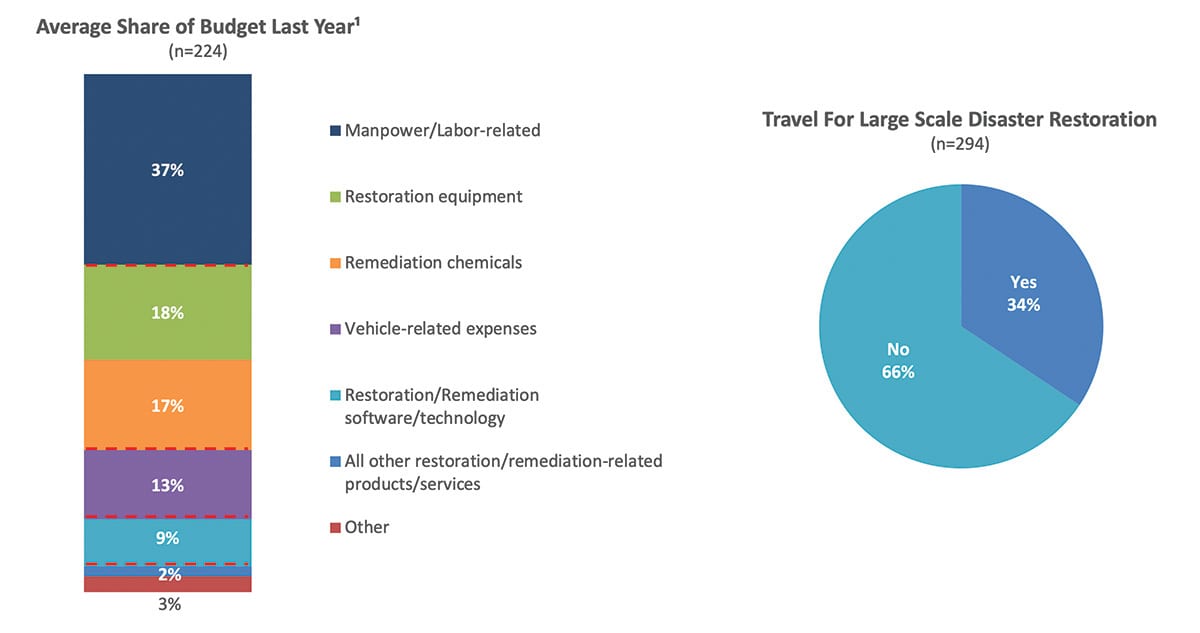 CONSIDERING CATASTROPHIC RESPONSE
Restoration contractors use a lot of chemicals in their work. Overall, 85% of respondents use restoration and remediation chemicals and solutions. The biggest categories are disinfectants, which 84% use, followed by deodorizers, which 81% of respondents use.
Respondents believe that some of these increased costs on labor and supplies will be offset by higher revenues. More than two-thirds of respondents predict an increase in revenue from restoration/remediation work compared to last year. On average, an increase of 25% is predicted.
About one-third of companies had employees travel outside of their service area for large-scale disaster restoration projects in past 12 months. The value of sending employees to work on these types of projects is becoming more complicated.
There are more large-loss events these days. For example, there have been more 38,000 wildfires this year that have burned 5,571,855 acres. This is the most acres burned-to-date in the past 10 years, according to the National Interagency Fire Center. Both numbers are well above the 10-year average of 32,286 wildfires and 3,328,244 acres burned.
However, travel costs are much higher now than they have been. Gas prices remain above $4 a gallon in many parts of the country and airfare has seen the biggest increase in more than 30 years.
Then there are the costs incurred at the site. Equipment rental is the top service used. Eighty-eight percent of respondents rent equipment, followed by 48% using portable storage options.
Something more contractors plan to spend money on in the next 12 months is drones. About a third of respondents plan on making that purchase. Only about a quarter of respondents currently use drones, so this could mark a large increase in their deployment.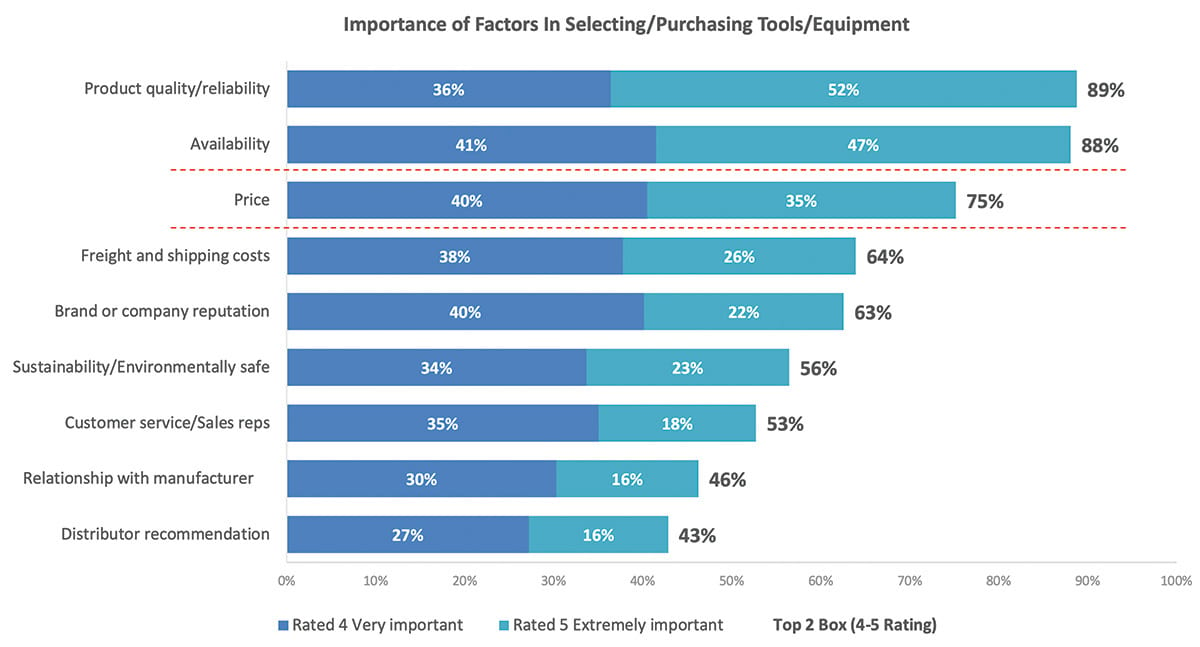 QUALITY TOPS PRICE IN SPENDING DECISIONS
When it comes to any expense, quality and reliability matter. Eighty-nine percent of respondents listed that as the most important factor in selecting which tools and equipment to buy. Availability, a bigger issue these days than ever, came in second, with 88% ranking it a top priority. Price came in third.
On average, nearly two-fifths of restoration/remediation purchases are sourced from local distributors, followed by about one-quarter procured from big box home centers. These stores are making an effort to attract more contractor business. Last winter, Lowe's introduced its MVPs Rewards and Partnership Program for trade professionals. In 2020, Home Depot re-incorporated its wholesale supply arm.
Only 5% of respondents report that the business/business they work for has been sold in the last 12 months. Among those who have not had their business sold, only one-in-ten are considering selling in 2022. Consolidation continues to take place at a fairly brisk pace in the restoration segment, but that may change. Higher interest rates could cool off some investors.
One aspect of the restoration business that makes it appealing to buyers is that customers pay. On average, nearly three-quarters of jobs are paid without dispute. More than three-in-five respondents state that they reflect their own rates on jobs rather than the rates listed in their estimating program. Respondents are able to collect on 79% of jobs, on average. Nearly two-thirds of respondents believe policyholders are receiving the promises made in their insurance policy.